When:
April 1, 2020 @ 6:00 pm – 8:00 pm
2020-04-01T18:00:00-05:00
2020-04-01T20:00:00-05:00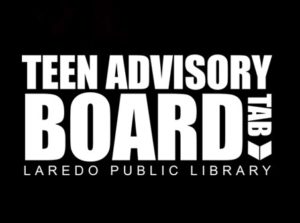 The Laredo Public Library Teen Advisory Board, aka "TAB", gives teens something a little more to look forward to when coming to the library while earning community service hours. TAB members are instrumental in the planning and organization of Teen programming at our library. From celebrating fandoms to making sure our bookshelves are packed with your favorite reads, TAB members are key to making it happen.
The Teen Advisory Board consists of 30 members and is currently open to High School students. For more information, message Reader Bear on Facebook or feel free to contact:
Rick Carrillo – 795-2400 X 2519
rcarrillo@ci.laredo.tx.us
Niki Acosta – 795-2400 X 2505
vacosta1@ci.laredo.tx.us
Lauren Muñoz – 795-2400 X 2506
lmunoz@ci.laredo.tx.us